*** UPDATE AS OF 10/31/16! ***
Due to some very poor album quality (and poor subsequent customer service from KISS), I no longer offer these albums! I have since switched to Finao — I'll have a new blog post up about them soon!
I know many of you have been told about the albums that I offer, but I get lots of questions about them, so I thought it would be nice to sort of have a big FAQ post — complete with photographs, of course! About a month ago I had a few wedding albums come in so I thought I would take a few photos before I sent them off to their forever homes. 😉 I happened to get two orders in at once which consisted of a 4×4 leather album, a 10×10 linen album, and a 12×12 leather album — all in different colors — so it was PERFECT! So, without further ado…
What are my options for albums? Great question! Both the linen and leather options come in four sizes: 4×4, 8×8, 10×10, and 12×12! They also come in a variety of different colors, which I've shown down below. Each album comes standard with 10 spreads (equivalent to 20 pages), with additional spreads available for a fee!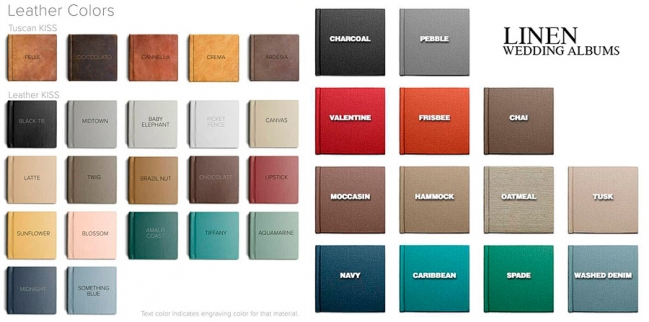 Are there any fun extra add-ons? YES! You can add a cameo window to the cover (a small inlaid photograph instead of a plain cover), engraving (if you'd like your names, wedding date, etc, on the front/back), a craftsman box (a beautiful hand-made wooden box), or a presentation box (a recycled craft box to store your album).
How much do they cost? I am happy to send any of you a price list right away! Just e-mail me at justine@justinejohnsonphotography.com 🙂
What makes KISS Wedding Books so awesome? Lots of things! Firstly, they are handmade in a relatively small scale in the USA. This means the company is truly able to oversee the quality of each album they make, which is super important to me. I want to be sure that whenever I get an album from them, it will be of incredible quality — and in the rare instance that there's a mistake made, they will work quickly and efficiently to make things right. I've been ordering from KISS for years and have never had a single issue — just stunning albums. Speaking of which, the albums are just plain gorgeous. Both the linen — sleek and modern — and the leather — classic and buttery — are awesome. The color options alone are worth it — it's great to not be stuck with simple brown, gray, or black. You can get Tiffany blue or frisbee orange or sunflower yellow, too!
How do I decide which size or finish album I'd like? This is mostly about your particular style as well as your budget! The leather albums are a bit more pricey but worth every penny — they're the most popular wedding album option. They're made of 100% real leather and it's super soft. The pages have a hard substrate between them so they're very thick. The linen have a bit more of a modern look — they're the more popular option for parent albums, senior photos, boudoir, and other portrait sessions. They're also the more animal friendly option if you're opposed to leather! The pages are glued back-to-back so they aren't quite as thick, but the spreads still lay flat. As far as size goes… I generally recommend the small 4×4 albums for things like boudoir, senior photos, things like that — and they can also be used as "brag books", small copies of albums that you can easily throw in your purse or car and carry around with you. It's easy to underestimate just how small 4×4 really is — they're adorable! Between the 8×8, 10×10, and 12×12 it's simply a matter of preference… but the 12×12 will BLOW YOUR MIND. There's nothing like seeing your photos printed on a 12×24 spread… talk about impact!

How do I design my album? The nice thing about this whole process is you can be as hands-on or hands-off as you'd like. Some of my clients like to be part of the designing process every step of the way, and the KISS designing software makes it easy for me to send a link to view a digital copy of the album so you can see exactly how it will look in print. This is great for clients who like to tweak and change things as we go, re-ordering photos, arranging layouts, etc! But some couples simply send me a list of their favorite photos and let me have fun. It's totally up to you! Depending on the size of your album, I can recommend an ideal number of photos to include. That way you can simply look at your online gallery and choose your favorites and send the list along to me!

How long does the process take? It depends on the time of year. During my slower months (December-March) I can generally design an album in just a few days, but during my high season (April-November) it can be closer to 1-2 weeks. The printing, binding, and shipping process for KISS generally takes around 2-4 weeks depending on the time of year (they are often much busier around the holidays specifically!). Rush printing and shipping is available for an extra fee, but not rush designing… it's first come, first served for me! If you know you'll want an album in time for Christmas, make sure to let me know 4-6 weeks in advance if at all possible! KISS generally has a cut-off date for orders to be able to be shipped by Christmas, so orders placed after that date may a) need to be rushed to make in time, or b) may not be able to make it before Christmas. The earlier the better!

These next photos really show the options for layouts on the spreads. I try to keep a good balance throughout my designs and keep like images together — ceremony, family formals, first dance, things like that! I also try not to crowd the pages too much — you want the photos to mesh well together and to be easily enjoyed!